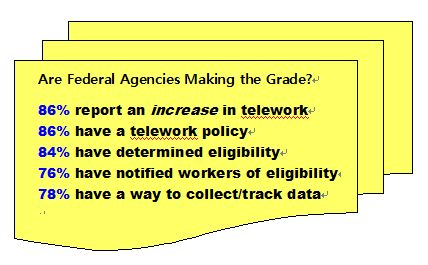 Summary:  The federal government is making good progress instituting telework programs for their eligible workers.  Maybe it's time to make the move to teleworking.
The Telework Improvements Act of 2010 (H.R.1722) was a bill introduced by the House of Representatives

To improve teleworking in executive agencies by developing a telework program that allows employees to telework at least 20 percent of the hours worked in every 2 administrative workweeks, and for other purposes.
Also known as the Telework Enhancement Act 2010, it was introduced in March 2009 and after several rounds of amendments and debates, was signed into law by President Obama last December 9.  It basically hurries government agencies into actually doing something to get federal workers off the roads and working from home on a regular basis.  Unlike its predecessor Section 359 of Public Law 106-346 (FY 2001 Department of Transportation and Related Agencies Appropriations Act), it outlines some very specific steps to encourage federal agencies to successfully implement their telework programs.  Below are some of the highlights of this bill:
revise telework policies, decide who was eligible to telework and to notify everyone of their eligibility within 180 days (until June 9) of bill's enactment
appoint a Telework Managing Officer (TMO)
establish and put teleworkers through interactive training programs
have written agreements for teleworkers in place
make sure teleworkers and non-teleworkers are treated and assessed equally
create a system to collected teleworking data and progress, which will be reported annually to the Office of Personnel Management (OPM)
incorporate telework into continuity of operations (COOP) plans (i.e. keep the government running in case of emergencies)
Office of Personnel Management (OPM) must come up with security guidelines for telework policies within 180 days
A Little More Background
Telework legislation has actually been around for the last 20 years, so it's a little surprising that H.R. 1722 caused as much debate as it did.  The last initiative which was tacked onto a Transportation Department spending bill in 2001 state that the government should establish a telecommuting policy and expand it to 25 percent of its work force each year.  The government clearly didn't  meet that goal, since according to the OPM, only 113,946 employees teleworked (5.72% of the entire Federal population) in 2009 and of those employees only 67% telecommuted regularly (meaning 1 or more days per week).  Considering the improvement in technology tools (like VSee and Salesforce ;)) as well as the changing work climate towards more flexible scheduling and mobile workstyles, it looks like the time is now ripe for widely realizing those telework policies.  In fact, the majority of agencies are meeting much of the Teleworkers Act requirements.
Duh
For the federal government, teleworking is an important piece in keeping the government going in case terrorist threats like the anthrax scare in 2001 and natural disasters.  It's also argues millions of dollars worth of cost savings for a government looking for ways to tighten its belt.  The major snowstorms that paralyzed the D.C. metropolitan area for 4 days in 2009 cost an estimated loss of $70-100 million per day in government productivity-an amount that easily offsets the $30 million in anticipated costs over the next 5 years.  Principal researcher of Telework Research Network, Kate Lister, also estimates savings of
– $850 million in annual real estate, electricity, and related costs
– $2.3 billion in annual absenteeism
– $3.1 billion in annual employee turnover
Other benefits include improving air quality, reducing traffic congestion, and meeting the needs of workers with disabilities.  It raises employee morale and productivity by creating space for uninterrupted work time on telework days, reducing stress caused by difficult commutes, and improving the quality of life due to greater flexibility and time saved not commuting.  Furthermore we know it can work because the United States Patent and Trademark Office (USPTO) has been modeling a highly successful telework program since 1997.  As of July 2010, 80% of its 7000 plus eligible workers telework regularly and of those, approximately half telework 4 to 5 days per week!
Not So Duh
Of course there are some very real reasons why there is still quite a bit of resistance to teleworking in both public and private sectors.  Probably the most often cited reason is the reluctance of managers who will have the most to lose in terms of power.  This is tied in to fears that slackers will take advantage of not having a sup breathing down their neck all the time, which adds to a work culture that doesn't accept teleworking.  Complaints about teleworkers include difficulties reaching people at home or getting people to come to on-site meetings on telework days (issues which should be resolvable by setting clear work expectations and making appropriate technology available.)  Opposing congressional members also fear the cost of outfitting an army of teleworkers and of increasing bureaucratic waste.
Other problems include work isolation, security issues (for the organization), lack of equipment, extra costs incurred (for the teleworker), getting double-taxed if you're out-of-state, co-worker jealousy, loss of visibility and fear of being "forgotten" by managers.
So What?
I've touched on some of the most commonly used arguments in the telework debate, but honestly, they don't really matter.  For better or for worse, we're in the middle of a work revolution and teleworking is an integral part of the new work structure.  Yes, some jobs are more suitable for telework than others.  Yes, people will still have to meet face-to-face.  Yes, some people will try to take advantage of working from home (you think people don't slack in the office?).  Yes to all your other "buts," BUT the point is that it's happening, and it's been happening for awhile.  A recent article cites that about half the respondents of a Microsoft survey worked for companies with telework programs, and on average they hoped to telework 9 days per month-5 more days than what companies expected.  Ron Markezich, corporate VP of Microsoft's U.S. Enterprise and Partner Group adds, "Telework is no longer a company perk for employees but a business imperative.  Ten years ago, it was seen more as an employee benefit. Today, businesses around the world are seeing telework as a necessity."
Just as office work was developed in the mid-1800's in response to the complexities of an extensive railroad business, so telework has been developing in response to improving mobile and Internet technology, conflicting work/family commitments, growing collaboration on a global scale, need for flexibility, and a tentative economy.  You can either adapt gracefully or get left behind with the medieval craft guilds.
Related articles
Good Article Summarizing Telework Enhancement Act and Possible Effects
Telework Act 2010 implementation progress report
Extensive List of Telework Pros and Cons by Telework Research Network
Overmeyer 2011 Telework Recommendations and 4 Agency Case Studies (Pro/Cons on pp. 9-11)
Alternative Big Picture Arguments For Making Telework Happen
Office of Personnel Management Feb. 2011 Federal Teleworking Data Report
A super long, but super well-referenced article on teleworking benefits and problems

Follow us on Twitter (@VSee) and Like us on Facebook to hear about the latest from VSee! By the way, we are hiring too.