VSee is a participant at the 2011 ACM Conference on Computer Supported Cooperative Work in Hangzhou, China. This is the first time the conference has been held outside of North America.
Besides being an attendee at this conference, Milton Chen, Founder & CEO of VSee, had the opportunity to present VSee's No-App Approach to Video Collaboration.
This is a photo of Milton making a presentation to the audience at CSCW 2011.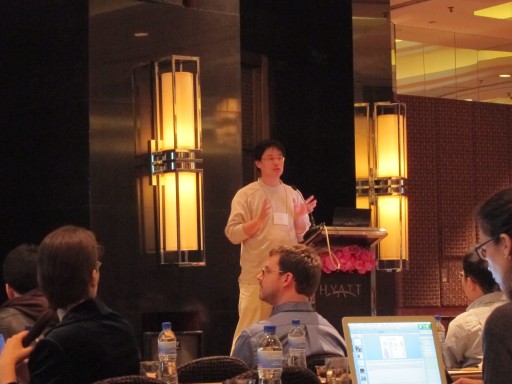 VSee also prepared a short video presentation on the No-App Approach to Video Collaboration:
In a separate session, VSee was used to bring in a remote speaker from the USA to the ACM Conference of CSCW 2011 in Hangzhou, China.
If you have met us at CSCW 2011 and would like to speak with us, feel free to email us at sales@vsee.com. We'll be most happy to show you a demo of VSee and take any questions you have. In the meantime, take a look at our brochure to learn more about VSee 🙂
CSCW is a premier venue for presenting research in the design and use of technologies that affect groups, organizations, and communities. The development and application of new technologies continues to enable new ways of working together and coordinating activities. Although work is an important area of focus for the conference, technology is increasingly supporting a wide range of recreational and social activities. CSCW has also embraced an increasing range of devices, as we collaborate from different contexts and situations. The conference brings together top researchers and practitioners from academia and industry who are interested in both the technical and social aspects of collaboration. (Source: cscw2011.org)

Follow us on Twitter (@VSee) and Like us on Facebook to hear about the latest from VSee! By the way, we are hiring too.