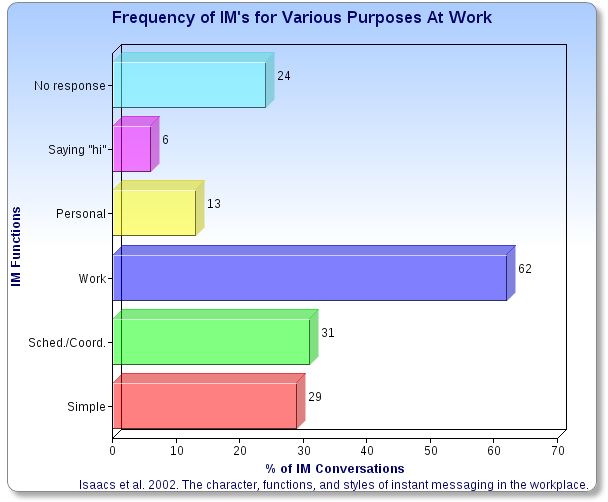 investigate whether people who used text-based IM were more productive than those who didn't.  They found that IM actually reduces workflow disruptions.  Since it is usually acceptable to ignore IM messages, and it's easy to get a quick measure of someone's availability, (whether through a visible indicator or a quick response), people are able to time interruptions and prioritize their interactions better.  They can easily engage in "low-intensity collaboration" and ask quick questions throughout the day without disrupting someone or being disrupted by someone.  They note that this is not the case for voice and video messaging.  Sixty percent of voice- and video-enabled IM users report that they are regularly interrupted, compared to 48% of non-users.
In Shaw, Scheufele and Catalano's field experiment comparing workplace communication before and after the installation of an IM service in a Fortune 500 company, workers reported a significant reduction in voice mails and the need to play phone tag in their day-to-day interactions,  because they were able to check their contact's availability using IM.  Interestingly, people did not report significant change in their communications done face-to-face, over the (landline) phone, or through e-mail, although they perceived a drop in fax, snail-mail, and cell phone use.
Isaacs et al. found that about 16% of the conversations they collected for their study were used to switch to communication in another media (like phone or face-to-face).  In these cases IM was usually used to call together an impromptu (7.8%) or prearranged (7.2%) meeting.  Less than 3% of IM conversations explicitly switched to another medium mid-conversation.  They also found that only about 31% of all IM conversations had to do with scheduling meetings and only 29% of all IM conversations were simple, single topic exchanges.
Moral of the story:
IM does not change how often and if people need to use other mediums including VSee video calls (Shaw, Sheufele & Catalano)
IM is less disruptive than a VSee call (Garrett & Danziger)
People will use IM to initially get a-hold of someone.  (Shaw, Sheufele & Catalano, Isaacs et al.)
What do you think?  How much value does Instant Messaging give VSee?  Should it be a VSee priority at this point? (Note:  VSee does have text-chat functionality once you're in a video call meeting.)
References
R. Kelly Garrett and James N. Danziger. 2007. IM = interruption management? Instant messaging and disruption in the workplace.
Bret Shaw, Deitram A. Scheufele & Susan Catalano. 2007. The role of presence awareness in organizational communication: An exploratory field experiment.
Ellen Isaacs, Alan Walendowski, Steve Whittaker, Diane J. Schiano & Candace Kamm.  2002.  The Character, Functions, and Styles of Instant Messaging in the Workplace.