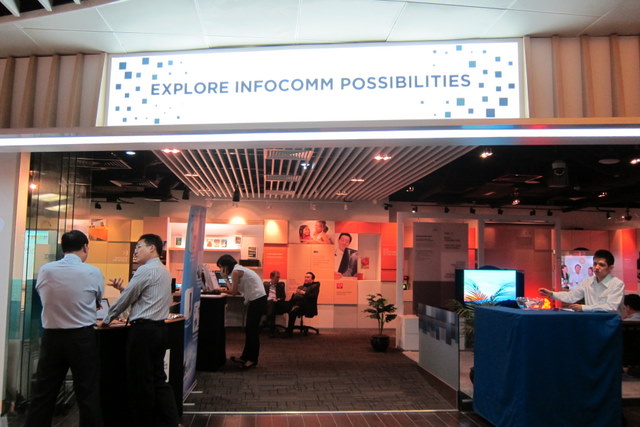 this photo gallery for some beautiful pictures from the event.  There aren't any pictures of Milton, I'm afraid, but here is a video recording of the talks.  Milton's talk starts at the 10:50 mark.)
Two days later, he was speaking at an Infocomm Development Authority (IDA*) workshop "in" Singapore challenging the use of Microsoft Communicator and Lync for home-based remote work.  His super power allowed him to easily make the walk to his kitchen table for dinner with the family.  I don't know if he's made any other exotic visits for this week, but I think he may have plans to be in Antarctica next week!
Here are pictures from the very cool IDA iExperience Centre in Esplanade Xchange, where Milton gave his talk.   It turns out that Singapore is currently rolling out an optic fibre called Next Generation N-abled Broadband (NBN) across the whole island, so they have been regularly showcasing the diverse possibilities for this technology at the iExperience gallery with live talks, interactive software and videos.  This week's theme was "home-based work."
*IDA is the Singaporean government's information technology regulating agency.
Btw, if you want Milton's super power, feel free to download and try out our product 🙂
Follow us on Twitter (@VSee) and Like us on Facebook to hear about the latest from VSee! By the way, we are hiring too.