We're super excited about our new release of VSee for iPad, which is now able to receive screen share and annotations from PC and Mac. We've also added group chat and made it easier to invite your friends and coworkers. Get the updated VSee iPad app now and enjoy free group video chat at its best!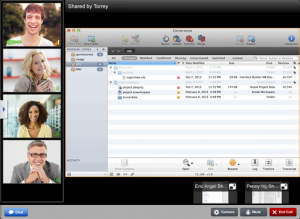 A big thanks to Torrey, Ken, Harry, Erika, Jenna, Penny, Ruozhen and everyone who worked hard on this exciting release 🙂
Full list of VSee iPad app improvements and fixes:
Features
Screen Sharing: view apps and desktops shared from Mac and PC while video chatting. Pan and zoom.
View annotations (except from Mac shared apps)
Group Chat when in a group call
View auxiliary camera feeds
Invite contacts from your iOS address book
Send feedback from within the app
Fixes
Fixed startup hang issue
PLEASE NOTE: If VSee hangs the first time after you install this update, reset your iPad. This should happen only once.
Contact VSee support team with any problems, questions, or suggestions you may have!
Follow us on Twitter (@VSee) and Like us on Facebook to hear about the latest from VSee!