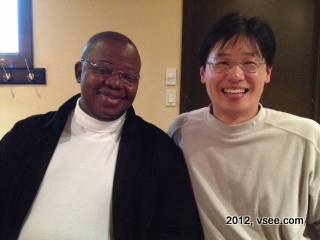 After returning from an awesome trip to Gabon where VSee connected Harvard Medical School to the Alfred Schweitzer Hospital (HAS), I had lunch with Gabon Ambassador Michael Moussa-Adamo in DC last weekend.
It was an opportunity to brainstorm ways to celebrate and share with the public the centennial of HAS's founding in 1913.  For the last 100 years the hospital has been on the front lines of fighting malaria, HIV/AIDS, TB, maternal and infant mortality, and providing much needed medical services to the people of Gabon.  We came up with 3 ideas on how HAS can serve Gabon and Africa for the next 100 years – email me for these ideas 🙂
Also present at the lunch were Dr. Lachlan Forrow, President of HAS, Georges Collinet, famed Voice of America broadcaster, Norman Lutkefedder, President of SEED, Becky Wai, Director of VSee Medical, and Scott Johnson, Director at MTN GS.
Follow us on Twitter (@VSee) and Like us on Facebook to hear about the latest from VSee!