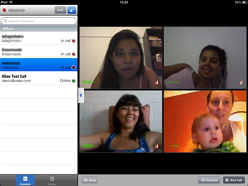 Our sincerest apologies to everyone who submitted a video call screeenshot when we ran the VSee photo contest in December. Due to a technical glitch (which has been fixed) we didn't get your picture. HOWEVER…
We have extended the photo contest to March 6, 2013.  Please send or re-send your awesome VSee video call screenshots to contest@vsee.com along with
where everyone in the VSee call is located and how often you VSee them.
why this video call was a magical moment
so we can upgrade you to a 12-month FREE VSee Pro subscription for entering our holiday video call photo contest!
How the VSee photo contest works
Email a screenshot of your holiday VSee video call to contest@vsee.com before March 6, 2013 along with the following info:
where everyone in the VSee call is located and how often you VSee them.
why this video call was a magical moment
We will post responses on VSee Facebook. The picture with the most "Likes" on Mar. 1, 2013 midnight PST will be the winner. Please share the VSee Holiday Photo Contest with your friends and family!.
Contest Prizes
1st Place – 10 VSee Pro subscriptions and a VSee hoodie,
2nd Place – 5 VSee Pro subscriptions,
3rd Place – 3 VSee Pro subscription
*All contestants will be upgraded to a 12-month free Pro subscription!