HEALTH MANAGER FOR REMOTE MONITORING
A chronic and post-acute care system that allows providers to easily track patients based on real-time biometric and health data.
Health Manager
Health Manager offers a customizable remote monitoring dashboard that makes it easy to keep tabs on patients from afar so you can prevent unnecessary hospital visits and re-admissions.
Provider Data Dashboard
Track patients based on real-time biometric data  

Customize patient vitals views & visualizations

Set alerts and color code patients based on data thresholds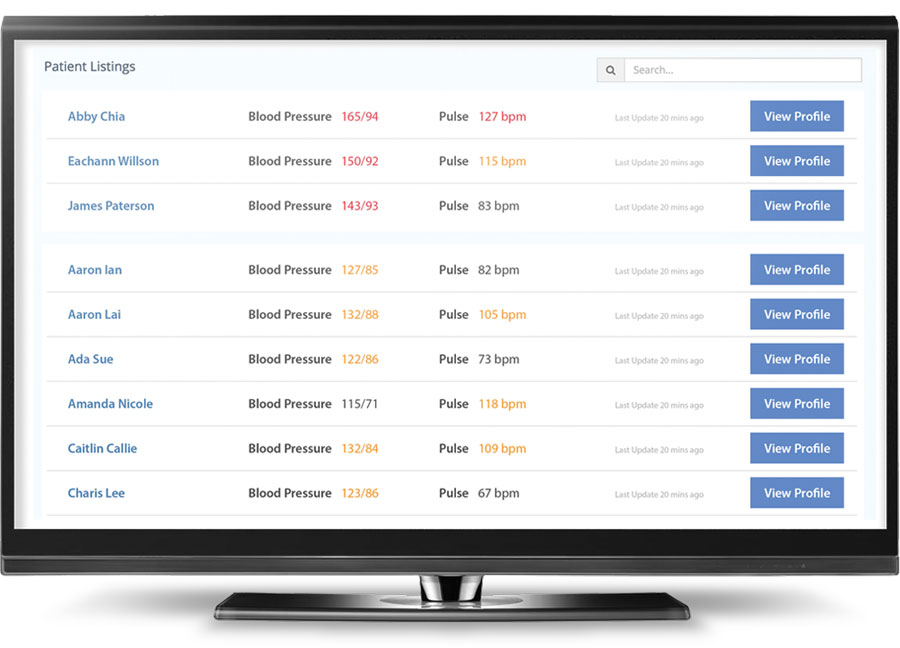 Patient Wellness Portal
Auto-upload data from digital health devices (e.g. blood pressure cuff, glucose meter, FitBit, iHealth, etc.)

Walk-in or self-schedule a visit to talk online with provider online

Track past visits.

Customize for data sets such as food diaries, mood logs, medication check-off, vital signs, and more.   
How our customers use Health Manager
Health Manager Plans
for Wellness, Chronic Care, and Post-Acute Care
Health Manager
Get a Quote
Custom URL
Logo Branding
Data Dashboard

- Color coded patient alerts and alert rankings
- Customizable data visualizations
- Wellness Portal (FitBit data)
- Vitals Portal (auto-upload for bloodpressure cuff, EKG...)


Patient Portal

- Intake form
- Walk-in waiting room
- Self-schedule visits
- ePay with credit card
- Doctor visit notes
- Personal health records
- Electronic patient consent
- Email reminders for appointments

Provider Dashboard

- Patient queueing
- Provider & admin login
- Secure messaging
- Patient records
- SOAP notes
- Mobile notifications when patient is ready
- Email & mobile alerts for appointments and walk-ins
- ePrescription
Get Demo
Customization Add-ons
Get a Quote
Custom colors
Custom intake forms
Self-access call reports
Custom workflows
Custom mobile app
Get Quote