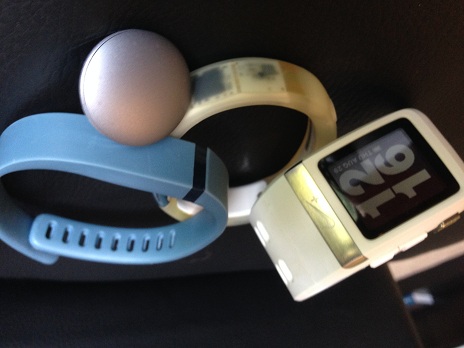 Guest post by Lee Springer – Lee is Chief Innovation Officer of Health As We Age and has worked with top Fortune 500 companies to provide the easiest-to-use technological solutions for consumers.
We're beginning to see them everywhere as they grow in popularity. Some of them look as if NASA had built them for the last Apollo mission while others fit in the sole of your shoe. Pedometers, activity trackers, WiFi scales, blood pressure cuffs, and other consumer health gadgets are becoming more and more popular in a world obsessed with data tracking. Companies are coming up with creative ways to bring your health data to you via smartphone, tablet, and other mobile health devices.
Health As We Age, (HAWA) takes your health data, and aggregates all your different device data into one central location. This helps our doctors, nurses, dietitians, and other health specialists understand you on a daily basis. We can then assist your primary care physician (PCP) to understand who you are on a daily basis, thus eliminating waiting room traffic, health history paperwork, and other nuisances.
For quite some time Health As We Age has been testing out multiple types of Activity Trackers and Health Fitness Trackers. Today I'm going to focus on four different products to help you decide which one may be right for you. But first of all, what is an Activity Tracker and why use one?
Activity Trackers And Wearables
An Activity Tracker (a.k.a. Health Tracker, Fitness Tracker) helps us understand the activity levels in a person's life. This could be the office geek, the busy housewife, the top athlete, the construction worker, the grocery bagger, and anyone who has an interest in understanding how much/little activity is happening in his average day. Over time you can understand where your activity levels were within the past week, month, and whether you need to set a goal, step it up a notch, or bag groceries at a faster pace.
HAWA provided me with a series of activity trackers so here are my results and reviews regarding
–  Nike+ GPS Watch
–  Nike+ Fuelband
–  Fitbit Flex
–  Misfit Shine
Nike+ GPS Watch
It's a bit unfair for me to compare the Nike+ GPS Sportwatch with the other three as this device is made to track running data only, and not daily activity. However, with its built in GPS and ability to count steps and measure heart rate, you can expect to get the most accurate data with this device. So I'll be using the Nike+ GPS Watch as a benchmark to see which activity tracker most accurately tracks planned physical activities.
Nike+ Fuelband
Nike is, of course, a big name brand for basically any kind of sportswear and so it's not surprising that their activity tracker has quite a following. However I was surprised to find the data captured by the Nike+ Fuelband was not very accurate. This to me was quite upsetting as I have fallen in love with my Nike Running App, Nike+ GPS Watch, etc. and was thrilled to bring in daily activity tracking into my planned workout activity. The good thing is that Nike does a great job displaying results, bringing some friendly competition to other members of the Nike+ Community, and reporting your data.
Accuracy: 4/10
Look, Feel: 5/10
Durability: 6/10
Data Reported: 5/10
Fitbit Flex
The Fitbit Flex is a well-rounded activity tracker that tells you much more than calories burned and distance walked. It calculates for you your calories in versus calories, monitors your sleep quality, and with the Aria scale, you can get an update anytime on your weight, BMI, and body fat percentage. It might be a bit of data overload, but for someone who's looking for an all-in-one health tracking solution, the Fitbit is a great fit!
Accuracy: 9/10
Look, Feel: 8/10
Durability: 5/10
Data Reported: 9/10
Misfit Shine
The sexiest of the activity trackers, the Misfit Shine brings glamour to healthcare technology. It's only been out on the market for a few weeks, so I'm sure there will be lessons to learn and bugs to fix. But all in all, the Shine did an excellent job reporting data. It was also a great conversation starter at an awkward block party BBQ. However I was sad when my rubber clasp got punctured with a very tiny hole, which days later became a much bigger hole. Fortunately, when I reported the issue to Misift, they had no problem sending me a new clasp right away.
All in all the Shine is a great tool with simplicity written all over it. I'm very excited to see what the Misfit team will come out with in the near future.
Accuracy: 9/10
Look, Feel: 10/10
Durability: 4/10
Data Reported: 8/10
Which is the best Fitness Tracker of all?
It depends what you're looking for. I'm a big fan of seeing my daily progress in charts, graphs, and stats. All three devices do a great job bringing me weekly averages, however not all of them capture daily data as accurately. If you're like me and are in love with collecting as much data as possible, I would suggest investing in the Fitbit Flex. If you like the latest slick gadget and enjoy being a beta user, I would highly suggest the Shine instead. Misfit Wearables did a great job launching the Shine into the market and will probably be sticking around for sometime. Here is also CNET reviewer Danny Sullivan's exploration of four Activity Trackers, including two other trackers: the Jawbone Up and BodyMedia Fit Link. In any case, it's exciting to see the evolution of these tools being used within Healthcare!
Appendix: My Fitness Tracker Data Comparison Charts
To give you a more accurate understanding of the data in the charts, here is a sketch of what one of my days was like:  I woke up to get my two kids up, fed, and out the door to church, followed by an afternoon picnic, a 45 min run, a grocery shopping spree, dinner, baths, and bed for the kids, then finished off the day by cooking dinner with my wife for ourselves. I expected a lot of activity to report on.
8/18/2013
8/19/2013
8/20/2013
8/25/2013