VSee was chosen as one of the Top 5 Most Promising Health Companies out of all the exhibitors at this year's HealthTech Conference 2013.  As a Top 5 company, we got to do an American Idol-style pitch to the audience with feedback from investors such as Psilos Group, West Health, Merck Global Health Innovation Fund, and Cardinal Group.
VSee's secure video chat and screen share has been a lifesaver in telemedicine and humanitarian efforts around the world – from post-earthquake Haiti to Darfur and Syria refugee camps to Southeast Asia and Shell Nigeria.  VSee's adaptive low-bandwidth technology can send video in places with no infrastructure and over congested networks.  It's multiple video streaming feature makes it simple for a doctors to see both patients and medical device images at the same time.
At yesterday's conference, VSee also presented its new e-Visit platform and integration services. A one stop shop for workflow design, engineering, and hosting services, VSee makes it easy to build your custom telehealth portal.  The VSee virtual doctor visit platform includes calendaring, virtual wait room, triage, and blood test virtualization, and can also integrate with consumer health tracking apps and e-Prescribing. With a focus on ease of use, VSee services include expert design support to simplify the online healthcare experience for both providers and patients.
About HealthTech Conference
The HeathTech Conference 2013 was put together by Stanford Hospital and HealthTech Capital to bring together "experienced, inquisitive and innovative entrepreneurs, providers, doctors, venture capitalists and large corporations across public and private sectors."
This year's conference speakers included Stanford Hospital President and CEO, Amir Dan Rubin, Healthagen-Aetna CEO, Dr. Charles Saunders, UCLA Health System Chief Innovation Officer, Molly Coyes, Senior VP of Walgreen, Brad Fluegel, and Athenahealth Business Director Kyle Armbrester.
More program information at http://www.healthtechconference.com/agenda.html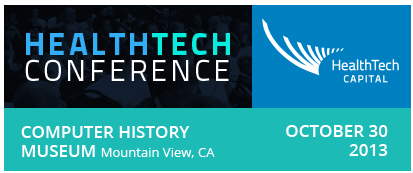 If you missed the conference, hope to see you there next year!