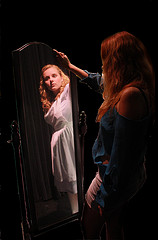 "FaceTime Facelift" procedure recently developed by Dr. Robert K. Sigal, M.D., the director of the Austin-Weston Center For Cosmetic Surgery.  It turns out that people video calling on iPhones and mobile devices tend to look like they have a bit of a double-chin because of the position of their face when looking down towards the phone.  It also turns out that the usual face lift procedure won't work to solve the problem because the cut is made under the chin right where everyone can see it as you're looking down into your phone.  To solve the problem, Dr. Sigal developed his special "FaceTime Facelift" which places the cuts behind the ear where they are not visible when you're using FaceTime.
Although right now I tell myself I would never undergo the knife for a chin tuck, the truth is that the growth of media technology has made appearances more important that ever before.
Seeing is believing, and in the age of Skype and do-it-yourself digital production, businesses are all keenly aware of the importance of making a strong visual impact in order to get noticed.  Consider the mania for infographics, or the mad scramble to make use visually-oriented platforms like Pinterest, lnstagram, and Facebook Timeline.  With the technology getting better and better, video calls are also increasingly being used by businesses as a more effective way to collaborate with each other, to reach out to clients, and to develop more fruitful relationships in general.
While most of us aren't that picky about the way we look on video, it's more than likely you'll be regularly communicating and presenting yourself to people over  video chat in the next few years, so it's a good idea to become literate in the art of presenting yourself effectively on camera.  Whether it's with FaceTime on an iPhone, Skype or VSee on your desktop, there are lots of simple things you should do such as remembering to smile, wearing camera-friendly clothing, using good lighting, using make-up modestly, framing yourself properly, angling the camera for eye contact….  (One thing nice about video is that unless you're on HD, most of your skin blemishes won't be visible 🙂
In case you're wondering about an alternative solution to the "FaceTime Facelift," you can usually get rid of a double-chin by simply holding your iPhone up more so you're looking straight into the camera instead of looking down into it.
How important is it to look good on video? 
Related Articles
Follow us on Twitter (@VSee) and Like us on Facebook to hear about the latest from VSee!
Photo credit: Duy Truong Photography via Flickr