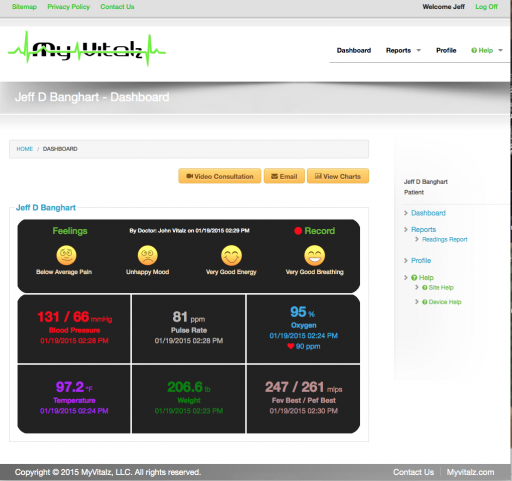 VSee has partnered with MyVitalz, a company that provides simple remote patient monitoring for the home. With MyVitalz, patients keep their care team updated with their biometric health data (such as pulse and temperature) once they return home from the hospital. Now, with VSee's Virtual Waiting Room integrated into MyVitalz, patients can also securely talk face-to-face with a member of their care team at any time through any smart phone, tablet or computer.
MyVitalz Chief Operating Officer, Jeff Banghart notes,"We looked long and hard at several video conferencing options that would compliment our MyVitalz Remote Patient Monitoring platform. VSee stood head and shoulders above the rest for several reasons: ease of use, HIPAA-compliance, 256-bit AES encryption, innovative waiting room and clinic platform, great customer service, and minimal latency, if any."
Banghart explained that many veterans return from their tours of duty with post-traumatic stress disorder. When they go home, they want to be able to talk to a counselor face-to-face. Video is key to providing care to our veterans, especially since many are living in rural areas without easy access to a VA medical centers. He adds, "VSee gave us another tool in our tool box that we can share with our customers to help complete their telehealth needs. A patient is literally one click away from a virtual face to face meeting with their doctor or nurse. This is especially valuable in mental health and chronic care platforms."
Adam Darkins recently released a report showing how telehealth has tremendously benefited veterans and reduced the VA's annual health care expenses. The report showed that in 2013:
Home telehealth services reduced bed days of care by 59%,
Home telehealth services reduced hospital admissions by 35%, and
Clinical video telehealth services reduced bed days of care for mental health by 38%.
You can read another study that found similar benefits for veterans here.
Everyone at VSee is super excited to provide our video technology to MyVitalz for all the great work that they do.