Thirteen thousand feet above sea level in the Himalayan Mountains, Apollo Hospitals has set up one of the highest telemedicine stations in the world! This government-assisted project, known as the Himachal Pradesh Telehealth Services Project, aims to make quality healthcare more accessible to the people of this remote region of northern India.
The Project has already set up two telemedicine stations – one at the community health center in the tiny village of Kaza and one at the regional hospital in the mountain town of Keylong. Using dedicated satellite connections of 512 kbps, these locations connect with Apollo specialists in various hospitals throughout India with VSee low-bandwidth videoconferencing software.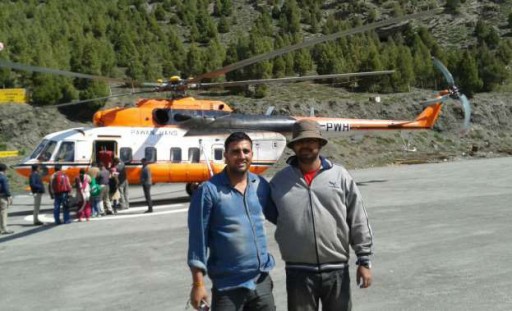 Himachal Pradesh is located in the Western Himalayas bordering Tibet and Kashmir. It is host to the Dalai Lama and is known for its climbing, trekking, and breathtaking views. It also literally means "snow-laden region." After setting up the Kaza site, the Apollo telemedicine team found its way to Keylong blocked by impossible road conditions due to severe winter storms. The team camped for 10 days waiting for the roads to open up. Eventually they had to borrow government helicopters to airlift the team and equipment into Keylong. Upon landing, their very first task was to clear out the 20 feet of ice and snow piled around the hospital buildings so they could set up the telemedicine equipment!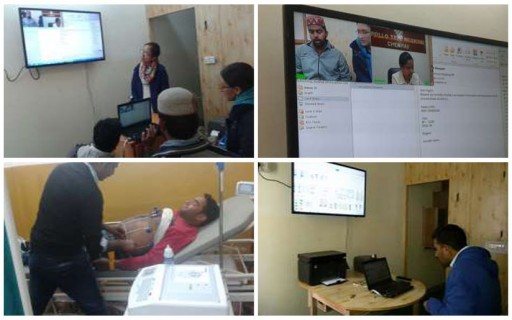 The Keylong site is set up with two separate spaces for telemedicine video consults. The Tele-Consult room on the first floor is for non-emergency consults. It is equipped with a laptop, large wall-mounted monitor, and a remote diagnostic kit with
12 Lead ECG
NIBP
Pulse oximeter
Spirometer
Stethoscope
Temperature probe
The Tele-Emergency room is right at the entrance to the main building and is set up with a wheelable telemedicine cart equipped with laptop, touch screen monitor, and emergency clinical equipment including
Defribrillator with monitor
ECG- 12 lead
Syringe pump
Nebulizer machine
Suction unit
Medical consumables
On May 26, the Keylong telemedicine station unexpectedly started operations several days ahead of schedule when two local people suffered cardiac arrest. The telemedicine team was able to triage with emergency doctors in Chennai using VSee video. They stabilized both patients, referring one of them to a larger hospital for further treatment.
Altogether, the two locations have conducted nearly 200 telemedicine consultations in May alone. Of the types of specialists involved, gastroenterologists, urogynecologists, and pulmonologists were the most consulted.
Among several notable cases include a man involved in an auto accident. The staff was able to be in a VSee video consultation with an emergency specialist within eight minutes of submitting a Tele Emergency request.
VSee is deeply honored to be the video software provider for this special project to improve healthcare access to rural India.
Top photo: Samriddhi Tanti
All other photos courtesy of Himalchal Pradesh Tele Health Services Project