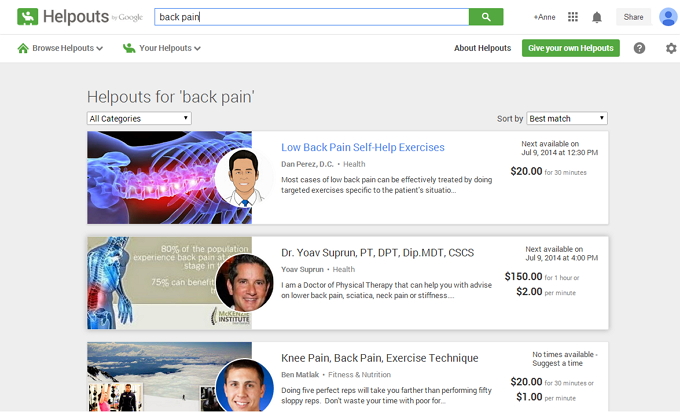 Video chat visits with your doctor are no longer a thing of the future. A growing number of telehealth platforms like MDLIVE, American Well, Teladoc, and Doctor on Demand are offering online video consultations with a doctor anytime. As a health provider wanting to get a start on telehealth in your own practice, you may be considering video options such as Vidyo, American Well, VSee, and more recently, Google Helpouts–think "Google Hangout HIPAA compliant." Hope you find this Google Helpouts review helpful.
Google Helpouts is yet another new Google product experiment. Based on Google's popular Hangouts video chat tool, Helpouts is a way for experts to offer their services via live video consultation. (You may want to check out this general Helpouts review.) Healthcare Helpouts, in particular,  allow health providers meet specific HIPAA regulations for connecting to consumers over real-time video. Whether you're a nutritionist, a midwife, speech therapist, or a physician, you can now provide your expertise online with Google Helpouts.
Unlike Skype and Google Hangouts, which have security issues, Healthcare Helpouts is a bit more conscious of HIPAA privacy concerns and requirements. Helpouts offers you a Business Associate Agreement (BAA) with Google, email and text notifications cleaned of personal information. It also automatically records video chat sessions and sends the recording to both you and your patient for any required record-keeping (which you also have the option to disable).
Google Helpouts also fits well into a clinical workflow. It includes patient scheduling, provider calendar, email and text notifications, and online payment all in one package. Of course, all these features have to be enabled through a Google account, and require using Google's Calendar and Wallet products. However, this may not be a big deal, since most of us are already part of the Google mafia in some way. The bigger problem you'll face is whether this Google service will stick around.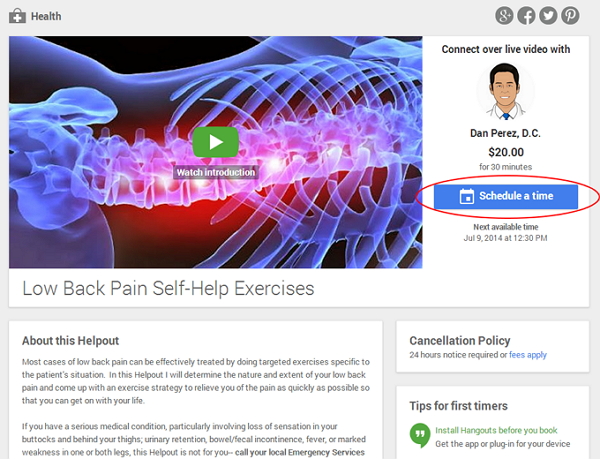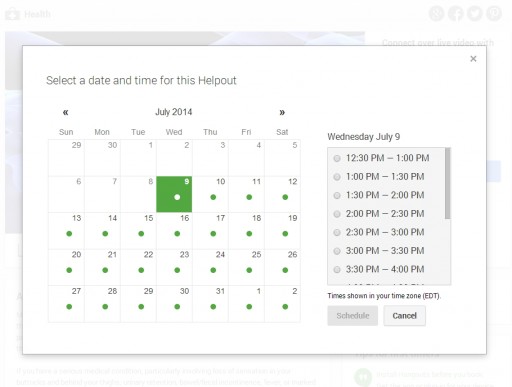 You should also know that Helpouts comes with a few limitations. First, you're out of luck if you need to do a group call – Helpouts is strictly for one-on-one video calls. Compare that to VSee OneClick, which allows you to add multiple users into a video call and also for a user to leave the video call at will.
It's also good to know that while Google is willing to sign a HIPAA BAA with you, it does store and retain rights to access to your data including recorded video chat sessions. VSee video chat sessions, on the other hand, are just between you and your patient. VSee does not store or have access to any data passed during your video chat.
On the up side, probably the biggest draw of Helpouts for health providers at the moment is the pricing. While other Helpouts users are charged a 20% commission fee from each of their Helpouts sessions, healthcare providers currently get to use Helpouts for free. (Apparently it's against the law to charge a percent commission from healthcare services.) But don't be fooled. Google is out there to make some money, and it will either come up with a profitable pricing model or the Helpouts product may fold as with the failed Google Health portal and many other promising Google products.
In short, Helpouts could be a great way to test the video telehealth and telemedicine waters, but make sure to keep your other options open.  Helpouts is most definitely a work in progress, and it's still very much up in the air whether it will survive the wilds of virtual care.