Shell has been a longtime user of VSee video chat tool. VSee's easy-to-use low-bandwidth technology makes it well suited for gas and oil companies.  With workers in remote areas and often harsh environments, VSee has been delivering clear video along with real-time data for Shell workers in hard to reach places.   With the development of our VSee telemedicine field kit, Shell is now also able to use VSee for remote medicine.
After a grueling 3-day training in deep water survival, the VSee team flew out to Nigeria where we have been deploying our new and improved telemedicine kits for Shell Nigeria.
Here's a closeup of the top and bottom device layers: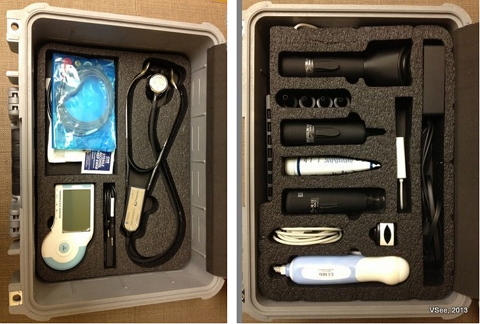 We were at the Shell Nigeria Bonga Field using the telemedicine kit to connect with a remote cardiologist in Nevada (courtesy of Barton Associates).
We used the e-stethoscope to listen for the lung sound with the remote cardiologist who said he could hear well. In fact, VSee user Randy Roberson at Disaster Logistics, has used VSee for years on his humanitarian relief missions. In one case, he was able to use an e-stethoscope with VSee to allow a remote doctor in Arizona diagnose tuberculosis at a rural clinic India — even though the clinic sat right next to a busy and noisy road!
We were able to share the oxygen saturation graph in real time. Simply plug in the medical device and VSee allows the remote doctor to both see the remote patient and receive real-time data simultaneously.
We were also able to share the cardiogram in real-time, using a 3-lead EKG which is used for screening.  Next time we will include a 12-lead EKG for more accurate results!
Please check out the rest of our visit to Shell Nigeria here.