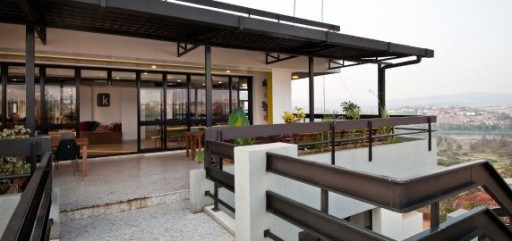 The VSee team has been in Africa this past week bringing VSee simple, low-bandwidth telehealth to various groups. Yesterday they were in Rwanda where VSee CEO, Milton, was invited to share his expertise at kLab, a one-of-a-kind tech innovation hub located in the capital city of Kigali.
kLab is the newest happening place for techies, innovators, and entrepreneurs to come together and get inspiration and advice for starting up their own businesses. In partnership with Carnegie Mellon University (CMU), Rwanda Development Board (RDB), Japanese International Cooperation Agency (JICA), kLab has created a beautiful space stocked with resources, designed to foster ideas, conversations, and connections. It even made one of the top 10 places to visit in Kigali and recently received a visit from Laureen Jobs, the late Steve Jobs's wife, and family.
Rwanda is one of the fastest growing economies and one of the fastest growing populations in Africa.  With a young, entrepreneurial demographic and visionary leadership (98% of the people are under the age 50), Rwandans are in the midst of remaking their country into an information technology center. The government's Vision 2020 plan projects a Rwanda sustained by small to medium tech enterprises by the year 2020. kLab is one of the key pieces to make this vision a reality.
With plenty of young computer science and tech students coming out of universities, talent and energy aren't a problem in Rwanda, rather the lack of real world experience and mentorship from experienced entrepreneurs. Milton had an eager audience at his talk wanting to hear his VSee story and how to go from graduate student to surviving the startup world.
Related articles
 first photo courtesy: Jonathan Kalan (2012)